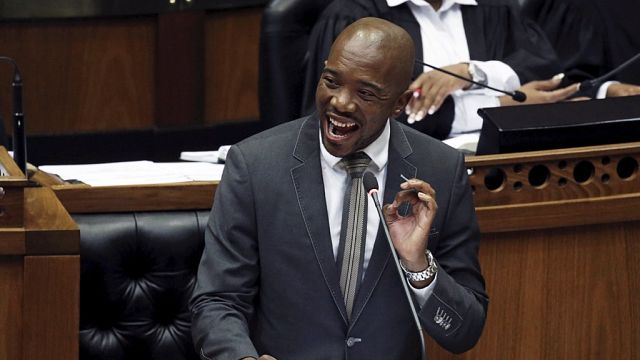 On Tuesday, the Democratic Alliance's (DA)  hopes of unseating South African, President Jacob Zuma were crushed when the party's motion failed in parliament.
The DA was hoping to unseat President Zuma before elections scheduled for 2019, citing President Zuma's term in office was tainted by accusations of corruption and influence-peddling.
The motion failed after only eighty-three lawmakers were in support of it. Two hundred and twenty nine others voted against it. Seven abstained.
"South Africa deserves a fresh start and the constitution makes provision for early elections in instances such as these, where there is a legitimacy crisis," said DA chief whip John Steenhuisen.
Last week, the South African president was heckled by opposition parties when he made he appeared in parliament for the first time after surviving a vote of no-confidence on the 8th of August.
President Zuma, has survived a number of   no-confidence motions in the past.
About thirty African National Congress (ANC) members of parliament also voted with the opposition in the August no-confidence vote, encouraging the DA to make a notion for early elections.
The ANC has a large majority in parliament and many of its members called the motion by the DA "frivolous". Other small opposition parties did not support it either.
"We are rejecting the motion with the contempt it deserves," said Mzameni Mdakane of the ANC.
On Tuesday, the Constitutional Court said it would reserve judgment on a request by opposition parties to make the speaker of parliament initiate impeachment proceedings against President Zuma.
Zuma is due to step down as president of the ruling party, ANC, in December.
South Africa, the most industrialized economy in Africa, has had its credit rating fall to junk status by two of the three top credit rating agencies.
In July, Stats SA reported that nearly a fourth of all households in South Africs live in poverty and unemployment remains high, at twenty-eight percent.
The economy has recently emerged from a recession in the second quarter after the  agricultural sector helped the economy grow more than anticipated.
Source: Reuters